In late 2018, 10 students from the Creative Writing Program at Marymede Catholic College paid their respects to the victims of the Black Saturday fires by publishing a book of poetry titled "Poetic Voices from Black Saturday".
Led by Secondary Staff member John Milides, the Creative Writing Program here at the College invited students with a strong passion and interest in English to participate in a series of workshops throughout 2018. 
With an aspiration to become authors serving our community, the group decided to study the tragedy of the Black Saturday bushfires which ravaged through areas of Kinglake, Kilmore, Wandong, St. Andrews, Strathewen, Narbithong, Eaglehawke, Flowerdale, Beechworth and Marysville on February 7, 2009.
The young writers would focus on creating a voice for the victims and aimed for their pieces to have a social purpose and benefit. Giving voice through literature and poetry to those people in our community who either lost their lives or suffered as a result of the natural disaster.
Mr Milides reflects on the groups journey and the final outcome – "As their teacher, and their first reader, I am most impressed by the poetry produced by these fine young poets. Their writing is full of pathos, emotion, pain and compassion. The poetry redeems the victims by taking their personal tragedies and turning them into a communal sharing of pain and its aftermath."
On Sunday February 10, Marymede Catholic College will participate at the Kinglake Ranges Combined Churches Black Saturday 10th Anniversary Memorial Service, which will be held at St Peter's Church and will be led by Father Ruwan. Our young Authors will offer a book to each family attending the memorial service together with a cross that Fr Ruwan will bless at the church.
If you would like to order a copy of 'Poetic Voices from Black Saturday' please email news@marymede.vic.edu.au
POETIC VOICES FROM BLACK SATURDAY
ISBN 978 – 0 – 6484652 – 0 - 1
AUTHORS:
Jane Babu
Dimitris Bachos
Cecilia Bingham
Deakin Constable
Chloe Falzon
Kristen Lando
Shante Pisani
Mannat Thakur
Samuel Vermeulen
Grace Wake
EDITOR:
Mr. John Milides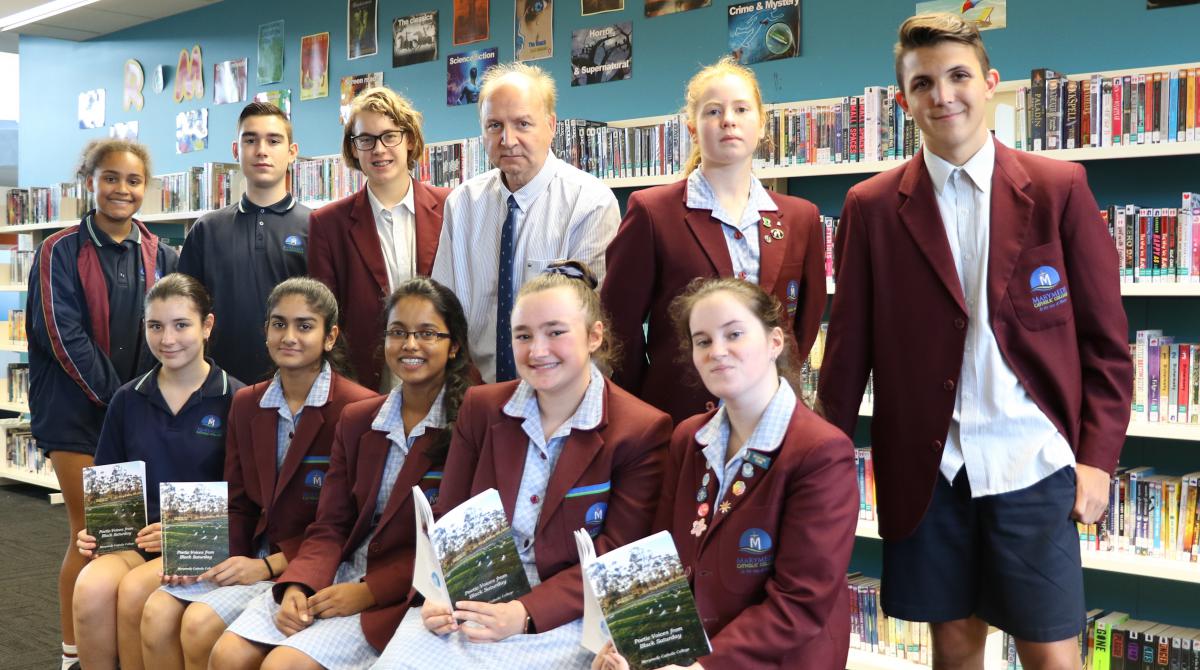 Mr Milides with our Authors